One of the most important cycling innovations of the past two decades is the power meter. Nowadays, it's a simple tool that allows you to see your power data in real time. There are hundreds of different power meters on the market, ranging from $150 to over $2,000.
In this review, we'll take a look at a wide variety of power meters, from pedal-based and hub-based units to crank-based options and more.
Just a decade or so ago, it seemed that only Tour de France pros had power meters. They all seemed so scientific, using crazy sensors and complicated formulas to spit out a number called 'power'.
Measured in watts, power is the amount of force that we're pushing into the pedals over a certain period of time. When combined with distance, the power number that is produced is easy to read and understand for all cyclists, from the weekend warriors to the WorldTour professionals.
Power meters come in a variety of forms and locations on our bikes. Some are swappable while others are almost locked into place.
Ten years ago, power meters would cost upwards of $1,000. With modern technology, many manufacturers are producing power meter models for less than $400, with capabilities and accuracy better than ever before.
With so many different manufacturers and models, it is nearly impossible to say which power meters are 'the best.' But when you factor in cost, reliability, and compatibility, there are a few that stand out. In this article, we'll take a closer look at some of our favorite power meters, and recommend a variety of models from $400 to $1800.
But before that, let's take a closer look at 'power,' and what it actually means.
What Is a Cycling Power Meter?
Most power meters use strain gauges to measure a given force in a component, such as the crank arm, pedal axle, spider, or hub. These strain gauges bend based on the level of force being applied, and then translate that number into a certain wattage using a series of calculations.
If you're interested in the inner workings of power meter calculation, here are a few more details: 'strain' is measured by the strain gauges, and multiplied by the angular velocity of the given component in order to calculate 'power.'
Here's the actual formula: Power = force x distance / time. Measured in watts (W)
Every power meter uses its own set of strain gauges and calculations to spit out a wattage number, but the engineers are good these days, and most power meters are accurate to +/-1% or +/-2%. Let's take a closer look at the best power meters available today.
If you are new-ish to the cycling world and are not sure if you're on the right track, make sure to read our more in-depth article about power meters.
---
Best Cycling Power Meters
---
Garmin Rally Power Meter Pedals
MRSP: $1,099
Accurate to +/-1%
Available in three different pedal bodies
Extremely reliable
The latest high-end power meter pedals from Garmin are designed to be the only power meter you'll need. Although the units are fairly easy to change, it can be a bit of a hassle to switch over your pedals every time you ride a different bike.
However, everyone has a different situation, so the Garmin Rally power meter pedals could be the best fit for you.
Related: Best Bike Pedals
Cyclists who travel frequently will love the ability to take their power meter with them on the road. It's a lot easier to pack a pair of pedals than to bring your entire bike; and you can even attach the Garmin Rally power meter pedals to a hotel spin bike given the correct compatibility.
Garmin has even designed the Rally pedals so that you can swap the pedal spindle while keeping the same power unit.
The Rally series comes in three different pedal bodies – RS (Shimano), RK (Look), and XC (SPD-SL) – and single-sensing or dual-sensing options.
The Rally series from Garmin is an upgrade from the Vector series, of which the Vector 3 was the top-end performer. Although the Rally series carries a steep price tag, the power meter pedals are as reliable and accurate as any other power meter on the market, no matter which component it is based on.
PowerTap G3 Power Meter Hub
MRSP: $899 for alloy rims; $2,199 for carbon rims
Hub-based power meter accurate to +/-1.5%
Extremely reliable
Well-designed
The PowerTap G3 hub combines right and left leg power to give you an accurate and reliable wattage straight from the hub.
One of the most popular power meters over the past decade, the PowerTap hubs are almost as good as it gets.
Sure, it could be a bit more accurate, and measure power from both sides, but the unit is solid overall, and couldn't be more reliable.
The unit is even more watertight than other power meter setups, which is a great feature overall, but a little annoying when you have to change the battery.
The entire PowerTap G3 Power Meter Hub weighs 325g, so it will add a bit of weight in a place that you're not used to, but it's certainly not a deal-breaker.
Its biggest downside is the reliance on a single hub for power measurement. If you train and race on separate wheelsets, then you'll only have power in either training or racing, not both – unless you want to spend over $3,000 to get the alloy wheels for training and carbon rims for racing.
SRM Origin Power Meter
MRSP: $1,899
A professional-grade power meter that's as good as it gets
Spotted on the bikes of Tour de France riders and World Champions for decades, SRM has one of the best reputations in cycling for making incredible power meters.
The SRM Origin weighs less than 600g and measures dual-sided power accurate to +/-1%. There are two different battery options – standard and rechargeable – and two different types: spider or 110BCD asymmetric.
The SRM name carries a lot of weight (not literally) in the sport of cycling. That's why these units are not the cheapest option.
SRM revolutionized many different aspects of professional cycling, especially when it came to power meter data capture and analysis.
The SRM Origin is available in both carbon and aluminum, and crank lengths of 160 to 175mm. Compared to its spider-based predecessors, the Origin is a three-piece power meter crankset that can accommodate a wide variety of frame and bottom bracket setups. For the ultimate, pro power meter, go with the SRM Origin.
Stages Power LR Ultegra R8000
MRSP: $789
Dual-sensing power meter
Upgraded internal technology
Many know Stages for their cheap (but good) single-sided power meters, but they have many more options for the serious data capturer. The Stages Power LR is lightweight at just 35g (in addition to the crankset), and is available in three options, all Shimano-based: Dura-Ace 9100, Ultegra R8000, and 105 R7000.
Upgraded ANT+ and Bluetooth technology makes the Stages Power LR more powerful than anything Stages has produced before, and the power meter boasts a +/-1.5% power accuracy reading.
The installation of these meters can be tricky. You might have to take it into your local bike shop to get the Stages Power LR installed.
That's the biggest downside of this power meter – even if you don't want to be restricted to the Shimano-only options, Stages offers a number of affordable, single-sided power meters compatible with SRAM, Campagnolo, and other setups.
Quarq Dzero Dub Power Meter Spider
MRSP: $399
+/-1.5% accuracy
Dual-sensing
Crank-based
Often rated as the best crank-based power meter, the Quarq Dzero Dub Power Meter Spider has both a long name and excellent reviews. The unit is reliable, accurate, and equally durable. All for a price that undercuts almost every competitor at this price point. You can even find an alloy version of the Quarq Dzero for half the price.
Being crank-based, the Quarq Dzero is not a simple swap. You'll probably want to commit to keeping it on just one bike. Other than that, there isn't much to complain about.
Quarq has its own app that is free to use. It can be used to update firmware, run diagnostics, and check the battery of your Quarq Dzero. That said, the Dzero's battery sell is said to last thousands of kilometers before finally petering out; and even then, it's a cheap and easy replacement.
All of Quarq's gear is easily connectable and compatible with Garmin and a variety of head units.
Rotor INspider power meter spider
MRSP: $649
Reliable data and power measurements accurate to +/-1.5%
The Rotor INspider power meter is a quality mid-range option for cyclists looking to upgrade their power retrieving sources. Its spider design makes it swappable between bikes, and with a weight of 148g, it is a solid option for mountain terrain or local hill climbs.
While the Rotor INspider does come with a rechargeable battery, the unit will still last 250-300 hours before needing its first recharge. Multi-discipline riders will find the swap-ability appealing, although they will need Rotor's specific crankset in order to make it all work.
The INspider is dual-sensing, and one of the most capable power meters on the market, as it is able to capture 200 data points every second.
Accurate to +/-1.5%, the Rotor INspider is a solid all-round power meter whose spider design makes it much more appealing than crank-based power meter options.
Favero Assioma Duo pedals
MRSP: $665
Easy to set up, use, and transfer between bikes
Reliable in all sorts of weather conditions
Lightweight
Weighing in at just 304g, the Favero Assioma Duo pedals are one of the most sought-after power meters pedals on the market. They are also cheaper than other power meter pedals such as the Garmin Vector or Garmin Rally series.
Of course, nothing is perfect. The Duo pedals need to be registered before they even work. They're not the best-looking pedals in the peloton, and they come with a proprietary charging plug that can be easily lost.
The power meter placement makes the pedals awkwardly weighted, making it difficult to quickly clip into the Look cleats that the Duo pedals use.
However, the Duo pedals are highly accurate (+/-1%), rechargeable, and waterproof. When it comes to data upload and wireless connectivity, the Duo's can't be beaten.
Whether it's a smartphone, laptop, or head unit, the Duo pedals seamlessly connect and upload data (as soon as they're registered).
They even measure a few data points that few (or no) other power meters are capable of, such as your platform offset, and how much time you've spent pedaling out of the saddle.
Of course, left-right balance is measured by these dual-sensing pedals, while a more affordable single-sensing pedal pair is also available from Favero.
PowerTap P2 pedals
MRSP: $899
Robust
Last for thousands of kilometers
The PowerTap P2 pedals are known for being robust and reliable. They may not be the best climbing or racing pedals. However, they will get the job done and last for thousands of kilometers.
AAA batteries add a bit to the overall unit's weight, which comes in at 398g total. However, the pedals are well-sealed and weatherproof, making them ideal for year-round riding.
One of the biggest limiters of this power meter setup is that it's only compatible with Look Keo Variant cleats.
If you have any other cleat, you're going to need to look elsewhere for power meter pedals. The PowerTap P2 pedals are also significantly heavier than Garmin pedals – the PowerTap P2 weigh 199g each, while the Garmin Vector 3 pedals weigh 161g each.
Garmin Vector 3 pedals are also slightly more accurate, at +/-1% versus the PowerTap P2 pedals which are +/-1.5% accurate.
Shimano Dura-Ace R9100 power meter
MRSP: $1,529
Long-lasting and rechargeable battery
Aesthetically pleasing
The second-most expensive power meter on this list comes from Shimano and their Dura-Ace R9100-P Power Meter. Its standout features are a long-lasting and rechargeable battery, and a steep price tag. Other than that, this crank-based power meter is right in line with many competitors, and marginally less accurate at +/-2%.
Convenience is what separates this power meter from others – a simple USB charging port makes it easy to recharge the unit's battery. The R9100-P is also easy to calibrate and dual-sided in its power measurement.
Some minor flaws stem from the fact that this unit is a first-generation, but none of the issues are catastrophic. In fact, Shimano has already rolled out a number of updates to resolve almost all of these issues.
It's hard to justify buying a Shimano Dura-Ace R9100 power meter at full price. It's a great unit at a steep cost. However, once you get it installed, it's one of the better-looking power meters on this list.
4iiii Precision
MRSP: $399
Best budget power meter on the market
Single-sided
Accurate to +/-1%
The cheapest power meter on our list is not the worst power meter by any means. In fact, the 4iiii Precision is more accurate than many of its competitors, coming in at +/-1%. The unit is single-sided – only on the left – and is extremely light.
So why doesn't everyone buy it? Well, left-side only power is a bit of a deterrent, and the 4iiii Precision can experienced inaccuracies at high wattages.
But overall, the problems are not too serious. Most riders don't have a significant imbalance between their left and right legs. As long as the number is consistent, that's all that really matters for training purposes.
The 4iiii Precision is accurate and reliable, and good in all sorts of weather. If you're shopping for a power meter on a budget, we highly recommend the 4iiii Precision.
S-Works Power Cranks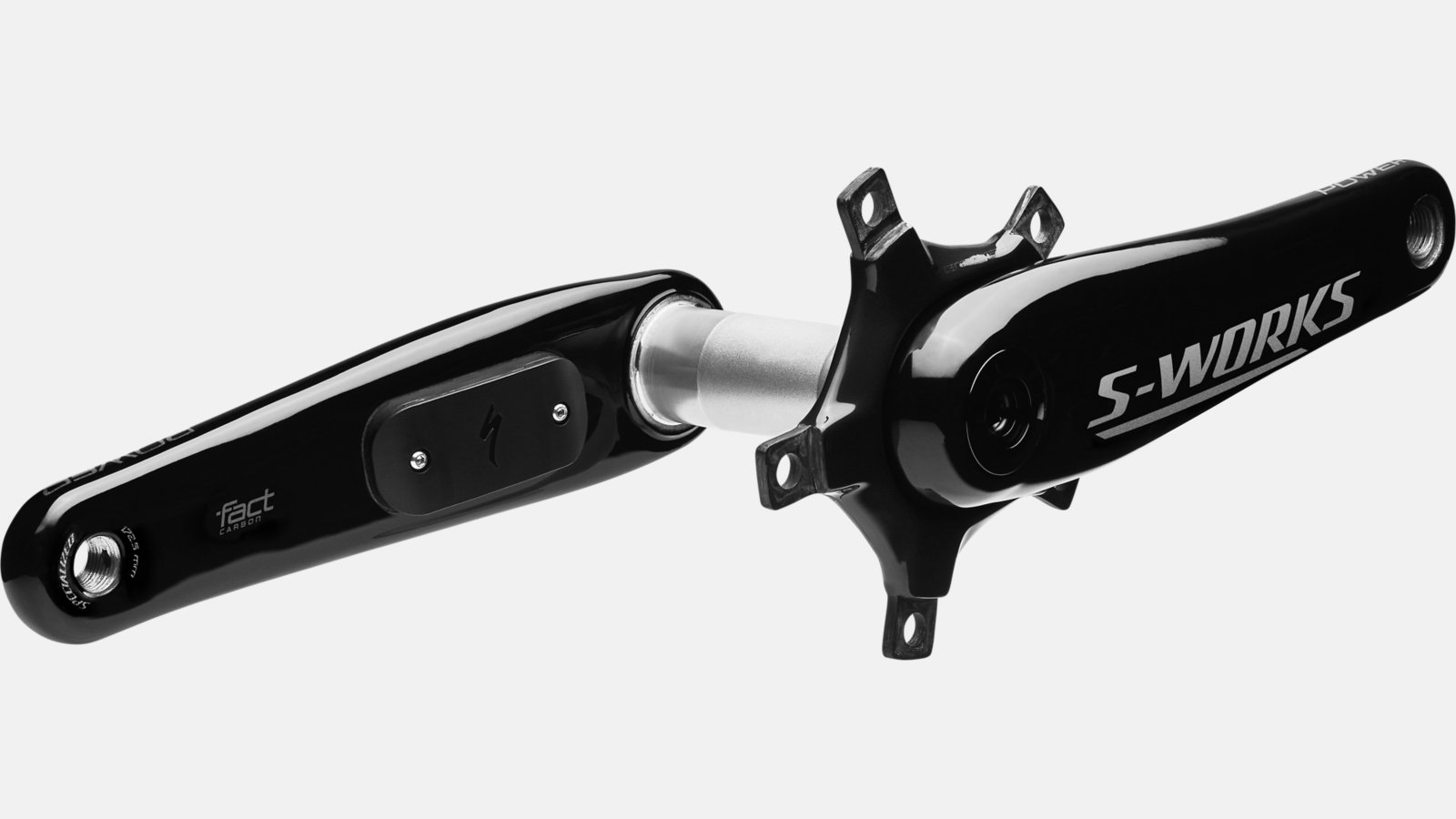 MRSP: $1,299.99
High-end power meter meant for elites and pros
Accuracy of +/-1.5%
For top-end bikes at a top-end price, the S-Works Power Cranks are meant for the pros, or for those of us emulating the pros. Using technology created by 4iiii, Specialized has created a waterproof, crank-based power meter of the highest standard.
The dual-reading sensors weigh just 15g, making the S-Works Power Cranks one of the best power meters for racing.
S-Works is known for creating high-quality (albeit pricey) products. The S-Works Power Cranks are fitting the bill. The meter is accurate to +/-1.5% is incredibly reliable in variable weather conditions.
The advertised cranks are full carbon S-Works, but there is an Ultegra version that comes in at just under half this price.
Many S-Works Power Cranks come pre-installed on Specialized's top-end bikes. You can also find the cranks aftermarket, and customized to fit your bike. If you can swallow the cost, they're one of the most capable and good-looking power meters on the market.
FSA Powerbox Power Meter
MRSP: $735
110 BCD across multiple chain ring sizes
Dual-sensing power compatible
Easy to set up
Frequent self-calibration that is both accurate and reliable
FSA combined with Power2Max to create the FSA Powerbox, a versatile, crank-based power meter accurate to +/-2%. The FSA Powerbox is reliable across a variety of conditions, even when tested after a stiff power wash cleaning.
Available in both carbon and alloy versions, the Powerbox is available with a wide range of chainring options, making it an appealing option for riders of all disciplines and abilities.
If you do spring for the carbon Powerbox, be prepared to spend a lot more than $735. Lastly, the FSA Powerbox is ANT+ and Bluetooth compatible, and even available in ultra-compact options, or lower than a 48/32.
The FSA Powerbox is not the lightest power meter on the market, especially the alloy version, and it comes with only a 30mm spindle. Thus, the Powerbox is not the best option for a climbing bike. It is rather suited for the rougher winter months and variable riding conditions.
With a simple upgrade, the FSA Powerbox is dual-sensing compatible, although it is not the simplest meter to transfer between bikes.
Our Favorite Power Meters
There are hundreds of power meters on the market, from less than $300 to well over $1,000. We've seen a lot throughout this list, but now it's time for us to reveal our top picks. Here are our favorite power meters for 2022.
Best Power Meter on a Budget: 4iiii Precision ($399) The Precision is one of the best power meters on this list, and it is also one of the most affordable.
Accurate to +/-1%, the Precision has few negatives other than the fact that it's single-sided. For any cyclist looking for an affordable, capable, and high-performing power meter, go with the 4iiii Precision.
Best Pedal-Based Power Meter: Favero Assioma Duo pedals ($665) There isn't a whole lot more we could ask for from a pair of power meter pedals.
The biggest complaint in this genre is the cost, but Favero undercuts the competition by nearly half. Accurate, reliable, and lightweight, the Assioma Duo pedals are the best of the lot. The plus side is that you can get them for well under a thousand dollars.
Best Overall Power Meter: Quarq Dzero Dub Power Meter Spider ($399) Our favorite power meter of them all is the crank-based option from Quarq.
The alloy version keeps costs down, while the higher-end is still more affordable than many other options. You can swap the meter between bikes, and ride for thousands of kilometers before needing a recharge.
For the best all-around power meter, we love the dual-sensing Quarq Dzero Spider.