A road bike is nowadays regarded as the king of bicycles. It's an extremely versatile bicycle type that can be used for training and commute around the city. Let's see what are the best road bikes on the market.
Road bikes are the lightest of all bike types. They will allow you to go faster and to cycle longer. They are much more aerodynamic than other types of bicycles, so you will be able to cycle much more efficiently even in strong winds.
Due to Coronavirus, most of the bikes are sold out! Consider pre-owned bikes on The Pro's Closet
In this article, we'll present to you 10 15 best road bikes for the money that you should definitely consider if you are looking to buy one.
---
Let's see, what are the best road bikes (By categories)
---
Best Cheap Road Bikes for Entry-Level Riders
---
1.

Tommaso Imola
Best Fitness Builder
MSRP $975
The Tommaso Imola has seen some improvements in components in recent years. The latest model is special because all of its moving parts are produced by Shimano, which guarantees superb quality. But, that is just one of the reasons why it made it to our list of best road bikes.
This is a serious Aluminum road bicycle with a durable steel fork. With its weight of 23.6 lbs, it's not the lightest, but it definitely doesn't mess around on the road. The frame is available in three colors — black, white, and orange. That's another thing that makes it one of the best road bikes under $1,000.
Tommaso Imola is the best beginner road bike thanks to the Shimano Claris groupset and the comfortable aluminum frame.
However, Tommaso Imola is not all looks. It is fitted with a decent Shimano Claris R2000 groupset with 16 speeds in total. The largest cog on the cassette has 28 teeth, so this bike an excellent all-rounder!
The brakes are Shimano Claris brake calipers with Claris R2000 brake levers. Some might prefer discs, but the truth is many roadies still love riding with rim brakes.
The wheelset is a Tommaso TC-20 which is decently lightweight and has low rolling resistance, while the tires are Kenda K152 700x25c. This is one of the most popular tire widths because of a good compromise between speed and rolling resistance.
So, if you are an aspiring rider and want to make some cycling gains, Tommaso Imola is one of the best aluminum road bikes that you can get.
Best in Class! Best Cheap Road Bike
Giordano Acciao is a super-affordable road bike available in a very attractive blue color with attractive details. It is a high-performance steel road bike with a steel fork, so it is comfortable and very durable. It's another best beginner road bike we recommend.
Giordano Acciao uses compact frame geometry which is superior to other types of geometries in that it offers better power distribution and is more responsive to the power input.
The components are full-on Shimano with 14 gears, which is a low-end option, but it still offers good performance. It's the best entry-level road bike for riders who are just entering road cycling and making their first pedal strokes on the road.
Giordano Acciao is easily one of the best road bikes under $500. If you want a bike that looks expensive and rides great for the money, you should get it.
The brakes on the Acciao are alloy dual-pivot rim brakes. Even though many best road bikes nowadays come with discs, this is still a decent option unless you frequently ride in the rain.
Giordano Acciao rides on 700c x 25mm road tires, which means they are pretty fast. Plus, the rims are 30mm deep, so they have pretty good aero properties.
All in all, it is definitely one of the best entry-level road bikes for the money on the market. So, if you're just starting out in road cycling, Giordano Acciao will definitely make you happy!
3.

Schwinn Fastback
Best Affordable All-Road Bike
Do you love speed and riding on different kinds of roads but you're limited to the best road bikes under $1,000?
If so, you will love the Schwinn Fastback bike because of how versatile it is! Due to the lightweight aluminum frame and fork, you can ride it as fast you can, or take advantage of the upright geometry to go as far as you can.
Considering the components, this bike is a good deal, offering reliable parts and durable materials.
Because this is one of the best entry-level road bikes, it comes with low-level Shimano Claris components which are still a good value for money and perform well in most conditions. This Schwinn has a 2×8 drivetrain and alloy caliper brakes.
Schwinn Fastback is a bike that opens the door to road riding for novice cyclists and is often bought as a first real road bike.
Alex X2200 double-wall rims with narrow 700c tires is a combo that will help you accelerate easily and maintain speed. The frame sizes are suitable for riders between 4'1″ and 6'4″. That's a massive range.
Full overview of Schwinn Bikes
Whether you are looking for a fast road bike that will help you push your limits or a versatile do-it-all workhorse, Schwinn Fastback will be a great buy. At this price, there aren't really any downsides to it. Just make sure to get the best road bike helmet with it as well and stay safe out there!
---
For Training
---
1.

Batch Lifestyle
Best Flat-Bar Road Bike
MSRP $400 (Jenson USA)
Batch Lifestyle is one of the best flat-bar aluminum road bikes on the market. It is a part of Batch's hybrid lineup, so it's ideal for those who want to explore all types of roads. There are plenty of reviews online and most of them are positive.
Even though the frame is aluminum, the fork is made of steel which achieves significant improvements in comfort. It's available in two colors, grey and blue, so it's suitable for men and women.
As the name suggests, Batch Lifestyle is intended for everyday riding, as part of your daily routine. It's equipped with complete Shimano Tourney components, which puts it in the entry-level category. This is a 1x drivetrain, so you'll get 7 gears with an easy 14-28T cassette and alloy linear-pull brakes.
Batch Lifestyle is ideal for rides on smooth paved roads and light trails, making it a great choice for cycling enthusiasts and fitness riders.
This bike also features double-wall aluminum wheels that are pretty durable, as well as 700C tires that are 38 mm wide, which is wide enough to make this bike a good choice for mixed gravel and road rides.
Batch Lifestyle is a beautiful bike! Buy it if you need a simple and affordable two-wheeler to commute, lose weight, or have fun on the weekends.
3.

Priority Continuum Onyx
Easiest to Maintain Commuter
MSRP $1,199 (Priority Bicycles)
Priority Bicycles has done it again. They have managed to build another fantastic commuter bike and add it to their already impressive range of bikes.
Priority Continuum Onyx has a really sleek design. The color is all black, with "Priority" written on the top tube.
Even though this is not a classic road bike with drop bars, it is still pretty fast on paved roads thanks to its components.
Apart from the ultralight aluminum frame, Continuum Onyx can also boast with an enviolo Trekking 380 internal gearbox. It's completely enclosed in the rear hub and gives you a wide range of resistance levels that you can change in a beat.
Instead of a chain, the drivetrain is powered by a Gates Carbon belt which is super-easy to maintain as it does not need lubrication.
It's becoming more and more usual for road and commuter bikes to have disc brakes nowadays. Priority Continuum Onyx is a good example as it features Tektro hydraulic discs with 160mm rotors.
Priority Continuum Onyx is the best choice for urban riders who hate bike maintenance but love riding in and out of the city to commute or get fit.
Finally, this Priority bike is fitted with double-wall alloy rims and WTB Slick 700x32c tires that are puncture-resistant and feature reflective sidewalls.
If you are asking for the best budget road bike that you don't have to pay through the nose, then Priority Continuum Onyx is the right choice for you!
---
For Racing
---
1.

Wilier GTR
Best Carbon Race-Ready
MSRP $3,250 (Competitivecyclist.com)
First of all, Wilier GTR is a bike that you will fall in love with at first sight. It is a beautiful bike with attractive black or red color schemes that will just urge you to go out and ride it. After all, it's made by one of the best road bike brands in the world.
Wilier GTR is built around a light and stiff carbon frame and fork with race-ready geometry that is fast, durable, and very responsive. It's the material that all best road bikes are made from.
GTR is a high-quality race road bike fitted with the proved and tested Shimano 105 groupset. The drivetrain is very practical, consisting of 22 gears, an 11-30T cassette, and a 50/34T crankset. Therefore, this bike means business and will go fast when you explore unknown roads.
Wilier GTR is a versatile and capable bicycle that does well in most situations but truly excels when put to the test in competitive road events.
Wilier equipped this bike with Shimano RS 171 rims, which are very durable and will take a beating. These are wrapped with Vittoria Zaffiro Pro 4, 700 x 28c tires, with low-profile knobs, which are considered to be the best road bike tires these days.
A modern carbon road bike would not be complete without good disc brakes, so GTR has Shimano 105 hydraulic discs, which most riders are very happy with.
In conclusion, there is no doubt that this is a very attractive road bike that will perform really well on any terrain. If you are looking for a bike to upgrade from your best entry-level road bike, Wilier GTR will definitely put a smile on your face.
2.

Cervélo Caledonia 105

Best List of Specs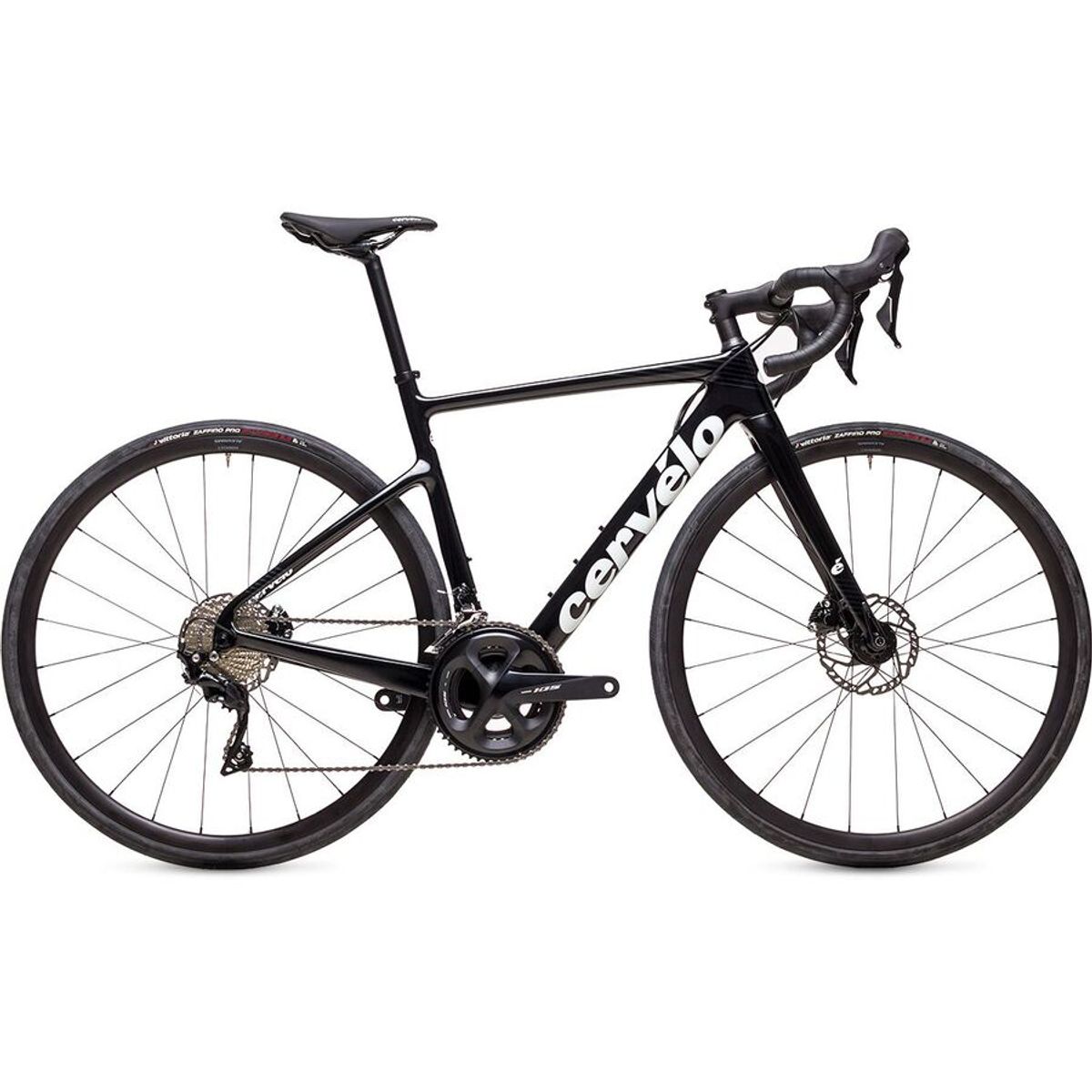 MSRP $3,200 (Competitive Cyclist)
The Cervélo Caledonia is a really good-looking bike that has proved to be a good performer in road races and a more affordable alternative to other fast racing road bikes. It's available in beautiful black and white paint job that looks absolutely amazing.
It is one of the best-equipped road bikes on this list, which means that you're in for a treat when it comes to the overall build and the components.
This bike is built around a carbon frameset that combines rigidity, comfort, and durability. The geometry is characterized by a focus on performance and great aerodynamics, both of which you will appreciate if winning a podium is on your list of priorities.
Few bikes offer the same amount of road racing prowess to serious cyclists as Cervélo Caledonia does. It knows how to surprise.
The Caledonia is equipped with Shimano 105 components, which is expected on a bike in this price range. It offers 22 speeds, with a 2×11 drivetrain and a fast 11-34T cassette. The compact chainrings are perfect for climbing and flats.
When you want to bring your Caledonia to a stop, you can do it with 105 hydraulic disc brakes. They perform well in most situations and offer all the stopping power you need. The stock Caledonia Logo tires are 30 mm wide, but there's enough clearance in the frame and the fork for best road bike tires that are up to 34 mm wide.
In conclusion, if you are looking for the best race road bike to smash road races, you shouldn't have any second thoughts about Cervélo Caledonia.
3.

Ridley Fenix Disc 105
Best Road Bike for Year-Round Performance
MSRP $3,099 (Competitive Cyclist)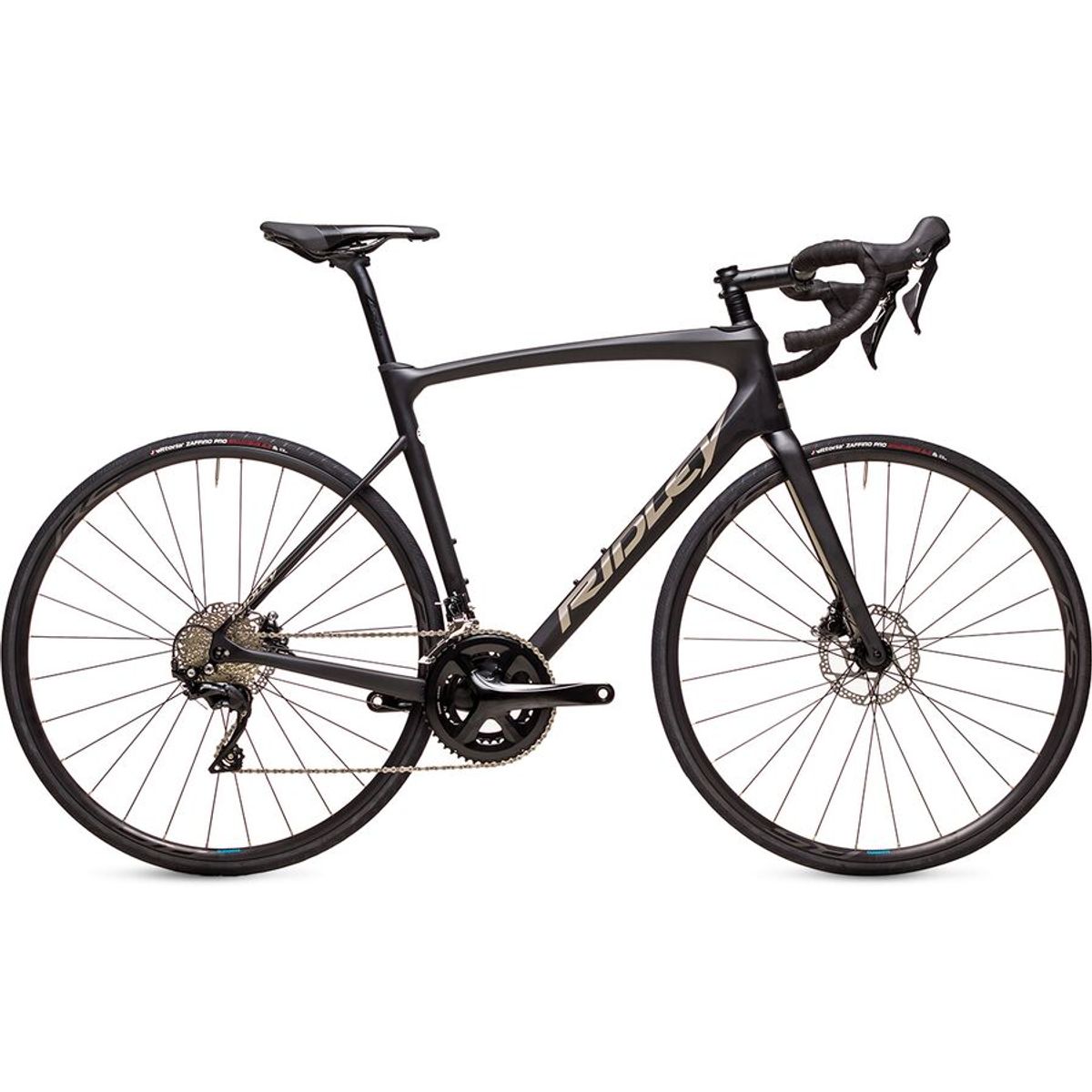 We love all types of roads!
The Ridley Fenix is one of the most versatile road bicycles on this list. This company is typically not road riders' first choice, but that might change with this model.
This is a UD carbon bike with a full UD carbon fork that Ridley has been meticulously improving to make weight reductions wherever possible. It's a decently lightweight bicycle that will make a huge difference in your Strava segment results and help you improve your PRs.
Nothing less can be expected from the components than the tried and Shimano 105 groupset. It gives you a total of 22 gears, along with a compact crankset and an 11-30T cassette. The brakes are also Shimano hydraulic discs, which will give you all the stopping power you need.
If you buy Ridley Fenix, it'll come with Shimano RS171 DB wheels and Vittoria Zaffiro Pro tires.
The Ridley Fenix is hard not to fall in love with at the first sight as it will make you faster, improve your times, and motivate you to ride more.
The frame is painted a beautiful combination of black and silver, so the bike has a very stealthy look.
The Ridley Fenix is definitely one of the best carbon road bikes on this list so far. If you are looking to beat some local KOMs, go on long endurance rides, and just have incredible amounts of fun with every ride, you won't regret this purchase even once!
---
Best Road Bikes For Women
---
1.

Marin Four Corners
Best Gravel Road Bike for Women
MSRP $1,280 (Jenson USA)
Do you regard yourself as a road and gravel cycling addict? Does your heart start beating faster when you leave the pavement behind? Marin Four Corners will get you completely hooked then!
This is a pretty versatile bike thanks to its Double Butted CrMo frame and fork. As you can see, this model has an attractive paint job and low standover clearance, so it's suitable for all types of riders, including shorter ladies.
The full Shimano Sora groupset along with Marin aluminum double-wall rims will perform well for any experienced rider out there. The WTB Riddler Resolute tires are 42 mm wide and available in 650B or 700C diameters. With these components, Four Corners is ready to complete some long-distance events.
This bike also has Tektro Spyre C mechanical disc brakes which is a must on bikes built for gravel riding. Keep in mind that this is not a lightweight bike, but that doesn't really matter as it is built for long-distance tours rather for speed.
Marin Four Corners is the best all-road bike for riders who want to get fit or put their foot in road and gravel riding a bit more seriously.
Talking about this Marin model would not be complete without mentioning all the mounting points that let you attach front and rear racks and multiple water bottles to stay on the road for days or weeks.
Marin Four Corners didn't hit our list of best road bikes without a good reason.
3.

Marin Gestalt X11
Best for Commuting and Gran Fondos
MSRP $2,449 (Jenson USA)
Marin Gestalt X11 is the best aluminum adventure bike for those who want to take their skills and performance to another level.
It is a high-quality mid-range gravel bike, so that makes it one of the best picks in this category. It's ideal for gran fondos as it can take a lot of abuse and it's equipped for long days in the saddle.
Marin Gestalt X11 is made from lightweight and very responsive aluminum material. The fork is made from carbon, it is light and absorbs vibrations really well. This bike is available in beautiful blue and red color combination, which makes it really easy to fall in love with.
As expected for this money, you will get the Shimano GRX groupset. It features a 42T crankset whereas the 11-speed cassette has an 11-42T range, which is not too aggressive, so you will be able to build power gradually and tackle most of the hills as well.
Enthusiastic gravel riders who want to enter gran fondos or spend entire days in the saddle will not find more value anywhere else compared to Marin Gestalt X11.
This bike also has numerous eyelets that let you attach different accessories. You can equip it with a front and rear rack, two water bottle cages, and front and rear fenders.
It is definitely one of the best road bikes under $2,500 right now, so it will be a great next step into long-distance riding or racing for any enthusiast cyclist.
---
Cyclocross and Gravel Bikes
---
1.

Evil Chamois Hagar

Best All-Terrain Drop-Bar Bike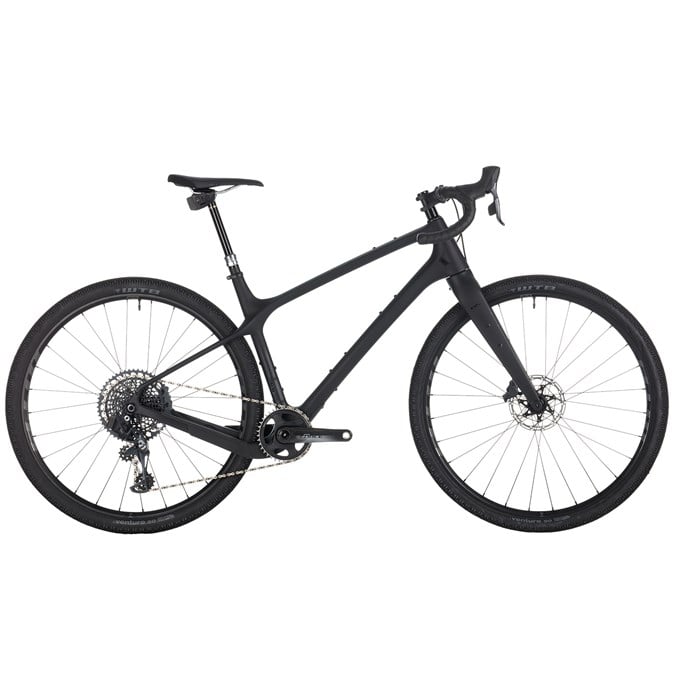 MSRP $5,899 (evo.com)
Evil Chamois Hagar is another exciting best gravel bike with great components in this review. The $5,900 price tag will give you lots of value, including some unexpected surprises.
First of all, it comes with an ultralight carbon frame and fork. That makes it fast as it does not weigh much.
The drivetrain is the highlight of this bike. The SRAM AXS X01 Eagle™ 12-Speed rear derailleur is paired up with a SRAM Force ETAP AXS HRD shifter that guarantees crisp and precise gear changes.
The rims and tires are a combination of WTB Proterra Light i23 rims and WTB Venture TCS 700C x 50mm tires. That means you can hit gravel roads with this bike and stay upright.
Moreover, if you live in an area with bad roads or a lot of rainfall, these wide tires will make your life easier and your cycling more efficient.
Evil Chamois Hagar allows all-terrain roadies to ride longer than ever before and explore off the beaten path.
Without a doubt, this is one of the best carbon gravel road bikes as it offers exceptional value at a very reasonable price. The SRAM Force hydraulic disc brakes reinforce this statement as well, as they offer more than enough stopping power.
In conclusion, if you are looking for a high-performance gravel road bike with an attractive price that can navigate all kinds of roads, Evil Chamois Hagar is the right choice.
2.

Niner RLT 9
Best Value All-Road Bike
MSRP $2,350 (Competitive Cyclist)
Aesthetically, Niner RLT 9 is one of our favorite all-road bikes on this list. When you look at it, the design is simple but very appealing. Keeping it inside for more than two days should be considered a crime!
Even though this bike doesn't cost much, it has some pretty handy accessories. The frame is made from aluminum and the fork is carbon, so you can expect the utmost comfort on your daily rides.
The frame is amazing, at this price range, but the components definitely don't disappoint either. SRAM Apex 1 front derailleur and hydraulic disc brakes are fitted on the frame which helps you shift through the gears on the 1×11 drivetrain and stop quickly. You'll have more than enough gears and stopping power wherever you go.
Niner RLT 9 is a modern gravel bike with road-ready components that make it a decent all-around contender.
RLT 9 also rides on 700c Niner double-wall alloy rims with durable walls and spokes. The Schwalbe G-One tires are 40 mm wide and have puncture protection so you don't have to worry about flats on your long rides.
Full review of the Niner RLT 9 Series
The bottom point is, even with some slight downsides, this is one of the best budget all-road bikes that you can use and abuse daily or go on multi-day adventures.
3.

Co-op Cycles ADV 2.2
Best Amateur Race Gravel Bike
MSRP $1,599 (REI)
Co-op Cycles ADV 2.2 caught our eye because we believe it is a very good buy. It costs around $1,600, but for that money, you get a quality aluminum frame along with a carbon fork. This combination gives you the ultimate comfort and stiffness.
What's peculiar about this bike is that it has gravel-specific components, which will make a huge difference when riding on rough and unkempt gravel roads.
Additional good news is that the bike comes with disc brakes. To be precise, the brakes are Tektro mechanical discs, which is a good mid-range option.
Co-op Cycles ADV 2.2 offers exceptional value for the up and coming road or gravel rider with its wide-range drivetrain and efficient geometry.
ADV 2.2 features Shimano GRX 400 components with 2×10 gears, which means the drivetrain doesn't lack granny gears.
The geometry of ADV 2.2 is endurance-based, so it will be comfortable if you wish to go for century rides. Moreover, the seat is WTB Silverado Comp, which seems to be highly regarded online among riders. Make sure to also invest in the best road bike shoes if you plan to do long rides.
This bike rolls on WTB Nano Comp 700c x 40mm tires with big knobs that are durable and ready for any type of road.
All in all, this Co-op Cycles model is one of the best gravel bikes for the money, it has an attractive white color scheme and it will no doubt put wind in your hair on a daily basis.
4.

Santa Cruz Stigmata

Best Endurance Road Bike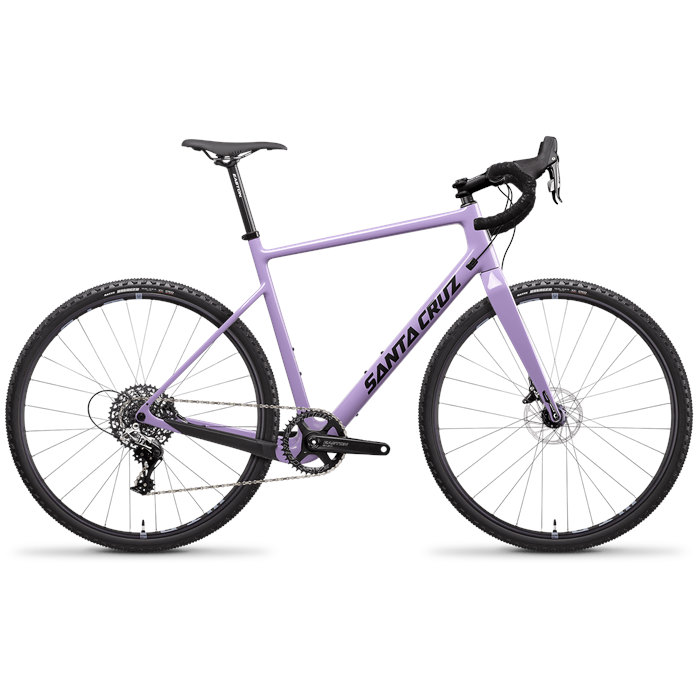 MSRP $4,299 (evo)
Santa Cruz Stigmata is a phenomenal carbon gravel bike with excellent SRAM components.
It's built around a full carbon frame and fork that bring the weight down and increase performance and value.
Santa Cruz Stigmata has an endurance geometry frame which will be much more comfortable to ride long distances.
The frame has multiple mounts and can take three water bottles. You can also fit a full-frame bag inside the main triangle as well.
Santa Cruz has found the perfect balance between affordability, performance, and good looks with the Stigmata gravel bike.
The components that Santa Cruz model comes with are SRAM Rival 1, which is a group that offers the most practical value for the money. The drivetrain has 11 speeds with a 10-42T cassette, so it can tackle hills and flats.
The brakes are also SRAM Rival hydraulic discs with 160/160 mm rotors on the front and back. They are a must on all serious gravel and all-road bikes.
More: Best Gravel Bikes
The bottom line is that if you are looking to buy an accessible, versatile, and good-looking adventure gravel bike, Santa Cruz Stigmata should be on your list. It's any bikepacker's dream come true!
5.

Ibis Hakka MX
Best All-Road Performance Bike For Men & Women
MSRP $3,599 (Competitive Cyclist)
Ibis Hakka MX is one of the best affordable all-road bikes out there. Whether you are looking to buy a fast commuter or you want a bike that will give you more possibilities when choosing which route to take, you should put this Ibis model on your list.
Hakka MX has 650B wheels with wide 2.1″ Schwalbe Thunder Burt tires that will make no compromises with the terrain. The bike also comes with multiple eyelets to attach two water bottles.
Ibis Hakka MX is the go-to choice for multi-day adventures and long rides that push you to the limits of endurance and create unforgettable memories.
This bike has a carbon fiber frame and an ENVE CX fork, which offer an excellent balance between strength, durability, and stability. Due to the design, we think this is an excellent women's gravel bike as well.
The components are mostly SRAM Rival with a total of 11 gears that you can choose from. That will give you plenty of choices on your rides, especially when hitting hills! However, do not worry, you'll be able to stop quickly in case of an emergency with a set of hydraulic disc brakes.
All in all, this is one of the best adventure road bikes because of its versatile and high-quality build. If you were thinking of trying gravel, you will not regret this buy.
---
---
Road Bike Sizes
Even the best road bikes that cost thousands will not mean a lot for your performance if the size is not right. Therefore, it is extremely important to buy the right size for your height in order to maximize your pedal stroke efficiency but also to prevent injury.
Related: Different Types of Road Bikes
Road bike sizes are usually presented either in centimeters or in Roman numerals. You can calculate the correct size according to your height by looking at the road bike size chart that we have created for you below.
Rider height
Suggested frame size
Feet/Inches
Centimeters
Centimeters
Size
4`10"-5`0"
148-152 cm
47-48 cm
XXS
5`0″-5`3″
152-160 cm
49-50 cm
XS
5`3″-5`6″
160-168 cm
51-52-53 cm
S
5`6″-5`9″
168-175 cm
54-55 cm
M
5`9″-6`0″
175-183 cm
56-57-58 cm
L
6`0″-6`3″
183-191 cm
58-59-60 cm
XL
6`3″-6`6″
191-198 cm
61-62-63 cm
XXL
Conclusion – Which Best Road Bikes To Choose?
We hope that we've helped you make a choice. To help you, even more, let's summarize what we've concluded about each bike so far.
If you are on the lookout for the best road bikes under $500 without too many compromises made, then Giordano Acciao is for you. On the other hand, if you want to get the best budget road bike but still experience bike commuting at its best, you should consider Priority Continuum Onyx.
In case you want to ride more and challenge yourself more on a modern and affordable aluminum road bike, Schwinn Fastback is the best cheap road bike we recommend.
You should consider Pinarello Prince if you want something much better equipped. The Tommaso Imola should be the choice if you need a bike for longer and more frequent training. However, if you are looking for a bike with flat bars, don't look further than the Batch Lifestyle. Niner RLT 9 is an affordable gravel and all-road bike.
Co-op Cycles ADV 2.2 is made for endurance gravel riding.
If you're looking for your first long-distance-ready aluminum bike, the Marin Gestalt X11 will not disappoint you. Marin Four Corners is one of the best women's bikes on the list. However, if you are looking for the best bike for road and trail, Evil Chamois Hagar is waiting for you!
For amateur racers, there's Wilier GTR. However, for bikepacking trips and adventures, Santa Cruz Stigmata should be your pick. Definitely check out Ibis Hakka MX as well.
For electric options, see our list of the best electric road bikes.