The year 2020 is well behind us and it will be remembered as the wildest year ever for cycling as a sport and the cycling industry in general.
Due to COVID social distancing measures, more people than ever before have decided to take up cycling as a way to stay safe, sane, and healthy amid the pandemic.
Unfortunately, at the same time, factory closures created a huge shortage of bikes on the market. Not the best combination to have if you're a retailer or a customer.
The question now is what does the future bring for cycling? How will the situation develop in 2021? What about 2022? Will bikes be back in stock? Will supply and demand remain high?
We did some digging and asked manufacturers and shop owners what they think. We're giving you our two cents and sharing some probable predictions.
The Impact of the COVID Pandemic on the Cycling Industry
It's hard to say whether 2020 was a good or a bad year for cycling. It all depends on whom you ask. It's safe to say that it was the best and the worst year at the same time.
The interest of regular people in cycling skyrocketed. When the coronavirus shut down gyms and public transportation, most people turned to bicycles as an alternative. In March, leisure-bike sales grew by 121% in the US. As a result, bicycle shops ended up with empty shelves by April. Similarly, sales of indoor trainers and rollers increased by 268%.
The industry is still recovering from this blow and shelves in many shops in the US are still empty. Will they go back to original stock numbers by the end of 2021 or even by the end of 2022? It's hard to say.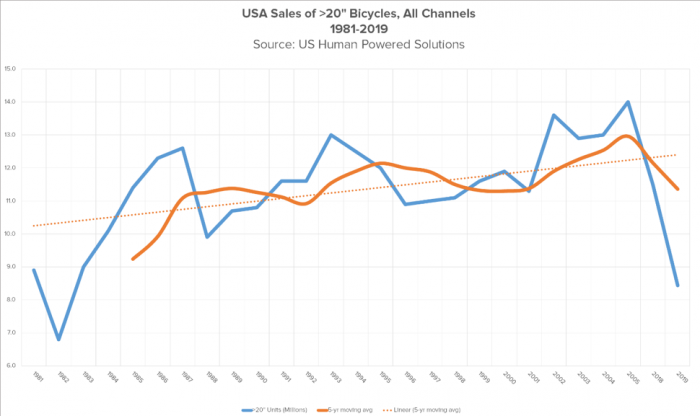 In the same fashion, this was also a strange year for racing. Many races were completely canceled due to social distancing measures, whereas others were postponed.
Tour de France, Giro d'Italia, and Vuelta a España were all crammed into a time span of just 60 days. This was never before seen and caused massive changes in organization, sponsorship, and training.
Luckily, racing has gone back to normal in 2021 and all major races.
In the end, I suggest we look at 2020 from a positive angle and conclude that it was a good year for cycling overall. We can say with certainty that there are now more cyclists than ever before on the streets of the USA, many of whom will continue cycling even after the coronavirus pandemic ends.
What Does the Future Have in Stock for the Cycling Industry?
The one thing we can say with confidence is that nobody knows exactly what will happen by the end of 2021 or even in 2022. Several vaccines have been made by now, so a lot depends on the success of those vaccines against the virus.
However, after doing some extensive research, looking at the numbers, and talking to industry representatives and officials, we're sharing our main predictions and expectations with you.
1. Bikes Will Be Back in Stock Again, But When?
The most important question that both customers and retailers are asking and would like a speedy answer to is whether or not (and when) bikes will be back in stock again.
The 2020 bike shortage was one of the worst ever. According to Specialized executive vice president Bob Margevicius:
There were 82,000 bikes (23,000 e-bikes and 62,000 traditional bikes) on hand on August 1 of this year. Last year, same time, there were 597,000 on hand (31,000 e-bikes and 566,000 traditional).
In September 2020, he estimated that we can expect another 12-14 months of bike shortages before the situation goes back to normal. We can now see that his predictions were about right, if not a bit optimistic.
Currently, there is a huge shortage of bikes on the market. The demand is high while the supply is struggling to keep up. Shop owners are scavenging for any bike they can get their hands on, but it's not enough to satisfy the demand.
Another big problem was the fact that manufacturers were not sure whether or not the demand would remain high in 2021 and 2022. Therefore, many were reluctant to invest in new factories and production facilities that would potentially become redundant in the near future and cause them to lose money. The result? Current production capacities are nowhere near to meeting the global demand.
Slow Production and Problems With Shipping
The problem is not only in the slow production of frames but in the lack of components as well. As Peter Lazarus, cycling market leader at Decathlon UK further explains in an interview for Road.cc:
Making the bike frames isn't a problem, Decathlon certainly has no problems producing its own bike frames. It's the componentry that's causing the issue, particularly the headline componentry: groupset, wheels, saddles, handlebars. (…) The production of groupsets hasn't gone down; that's not the problem. The problem is that groupset production can't go up enough to meet demand…
As if that hadn't been enough, a new issue related to shipping containers that put an additional strain on the supply chain sprung up at the beginning of 2021. Namely, China's economy bounced back sooner than European and USA's economies, so it was exporting a lot more than the other way around. As a result, shipping containers were stuck in the West and their prices skyrocketed from around $2,000 to as much as $18,000.
One thing we now know for certain is that shops will not refill their stocks by the end of 2021. Some experts suggest things will go back to normal by spring 2022, but others who are not so hopeful claim that the supply and demand won't balance out until 2023.
This situation is also causing the prices of bicycles to increase further in 2021 after they've already been upped in 2020. As the year progresses, we can expect to see price tags go up another 10–25%, experts say.
2. Retailers Will Start Including Smaller Brands
Up until 2020, many retailers relied on and stocked bicycles from the four biggest bike brands and their sister companies: Trek, Specialized, Giant, and Cannondale. This is changing in 2021.
The majority of retailers are already looking to bring new brands into their stores for the next year. This way, they will have a healthy ecosystem of competing brands under their roof, which will prevent complete shortages. If one brand is out of stock, another one will have bikes for sale.
This is not a new strategy, though. Around 30% of small bike retailers who are not associated with one of the four big cycling brands have been relying on this business model for years.
Therefore, according to some predictions, 2021 will be the year of smaller brands, many of which will probably gain new customers who are going to stay loyal to those brands in the future.
3. Rise of Electric Bikes
The number of electric bikes has been on a rapid rise for years. More and more people are opting for an e-bike instead of a regular bike because they allow non-cyclists to overcome common barriers that earlier pushed them away from cycling. You don't need to be fit to ride an e-bike, you don't need to suffer, and you don't need to sacrifice time if you're unable to go fast on your own.
We expect the number of e-bikes on the streets to become even higher in 2021. According to Statista, the size of the global market for electric bicycles is expected to go from $14.8 billion in 2019 to $20 billion in 2023.
A few facts that support this claim and these numbers are that e-bikes are becoming cheaper, lighter, more powerful, and faster. They're also becoming very similar to regular bicycles thanks to more compact motors and integrated battery packs.
As an increasing number of people has replaced cars and public transportation with bikes in 2021.We expect to see more cargo e-bikes on the streets, which is the best car replacement around.
4. Bike-Sharing Gets Bigger and Bigger
Those who were fast enough and lucky enough to purchase a bike in March and April 2020 are now probably enjoying their new ride and will continue to do so in 2021. Those who weren't, have two options: service the old, rusted bike in their garage or use bike-sharing programs.
Bike-sharing market is expected to grow from $3.32 billion in 2020 to $4.2 billion in 2021 and continue to expand.
In 2021, most social distancing rules are still in effect, which means cycling is remaining as an and exercise medium.
Instead of using public transportation or spending hundreds of dollars on gas, a lot of urban dwellers simply use shared bikes wherever available. That said, local authorities in many cities in the US still have a long way to go before the demand for shared bikes is fully met.
5. More Virtual Races
After the UCI put many of the official races on hold and postponed others at the beginning of the 2020 coronavirus pandemic, professional and amateur racers turned to the world of Zwift Virtual racing.
The first UCI Cycling Esports World Championships took place in December 2020. Elite cyclists from 20 National Federations will get a chance to race entirely virtually for the first time.
Just Everested, vEverested, whatever you call it, with @LukeRowe1990.
We had the idea when we knew the weather would be bad.
I take my hat off to anyone who's completed it in whatever capacity, it was grim.

8848m altitude in a single climb.
211km.
10hours 37minutes 32seconds. pic.twitter.com/G4JvyZo7WW

— Mark Cavendish (@MarkCavendish) May 1, 2020
Many professional riders have also turned to the Everesting challenge to cope with the lack of races, which they completed virtually on Zwift. Mark Cavendish and Luke Rowe being just some of them.
The UCI racing calendar is now majorly back to normal, but we expect to see even more virtual races in 2021. Cyclists are becoming fond of this type of challenge.
6. Continued Rise in Bicycle Sales Worldwide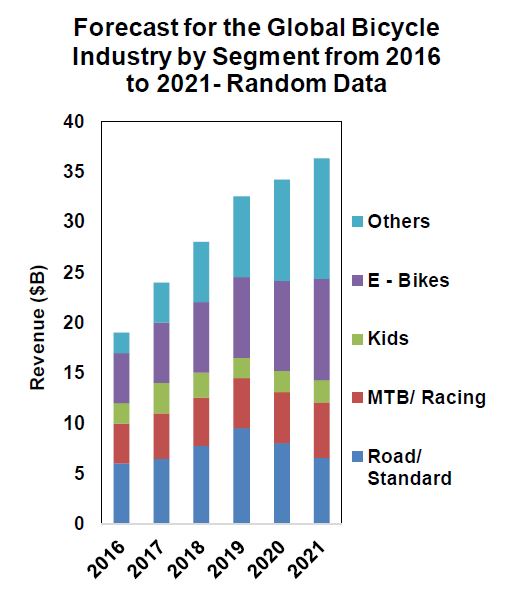 One of the reasons why we've mentioned earlier that you shouldn't expect bikes to be back in stock by the end of 2021 is that the demand is expected to stay high.
Even though more people than usual have bought a bike in 2020, there are many of those who still haven't. Some of them are waiting for their preferred brand and model to be back in stock, whereas others have placed preorders and are waiting for those to be shipped.
Additionally, sales of bikes under $200 grew more than 200% and front-suspension mountain bikes were up 150%. Therefore, we can expect recreational and entry-level bikes to stay in high demand, especially those between $500 and $1,000.
So even though it will be easier to purchase a bike in 2021 compared to the previous year, you'll still have to race other people who will want to do the same.
Though this will present a problem for retailers, customers, and the industry in general, we're quite happy that the interest in cycling is not expected to wane.
Let us know what you think in the comments section below.